Part 1 of this article discussed the status quo of the global landscape, and revealed two main lessons: First, ownership and use of land need to be seen as separate entities, independent of its market value. Second, the concept of a land-holding community has proven potential for making sure the aforementioned social, economic and environmental factors find consideration and implementation. The question that remains is: How do we move forward?
        Jan Spijkerboer: "The big question now is: Can we, with an innovative concept of ownership, organize comparable structures, whereby land ownership is in the hands of foundations, orders and so forth, for a sustainable use of land?"
The first notion emphasizes the need for decoupling the ownership of land from use and land price, making sure the agreed price takes into consideration the highest societal and environmental added value. While liberal, individual-based forms of land ownership oftentimes fail to fulfil the sustainable needs set by planetary boundaries, the second notion emphasizes the current global movement of collective actions that offer potential alternative pathways. This trend reveals practical examples like religious orders, land stewardship, community-supported agriculture (CSA) or community land trusts, which revisit the historical notion of the commons in land ownership and use.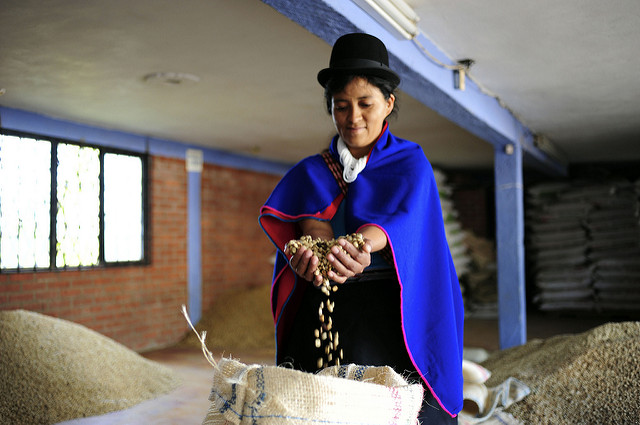 In this understanding, a person or a community manages the land as a shared resource, over which the community members have certain rights (e.g. planting food crops or have cattle grazing). Managing land as a commons delivers reliable and usable alternatives because it usually combines long-term use with sustainable practices responding to the needs of a whole group. In the 21st century, the scope and possibilities of commoning has expanded with gradual innovation in technology and science. In the best-case scenario, commoning practices are applied as democratic and transparent as possible. Such forms of collaboration are facilitated by new forms of digital communication that are independent of location and time, and innovative tools that set the scene for unprecedented  knowledge exchange.
CSA in Europe: Communities, cooperatives and networks
In Europe, large-scale farming and development has triggered the coalition of many small farmers in their common endeavour to preserve local, agroecological farming. Agroecology represents a combination of social, technological and natural conditions aiming to establish a balance between management of the soil for agricultural purposes and the natural ecosystem. One example is the network Access to Land, which brings together and supports various initiatives and organisations across Europe that are active in securing land for agroecological farming. Their aim is to foster a broader evolution of national and EU policies and regulations on land use and management.
One of the network's members is the Kulturland Genossenschaft (Kulturland eG), a cooperative society of farmers and citizens in Germany with the goal to release farmland from speculation. Kulturland eG purchases agricultural land with the resources of all its members in order to secure it as a commons and on a long-term perspective. After researching various tenure forms and the market land situation in the context of the ongoing financial crisis, the society developed a blueprint for a new organization replicable and relevant for wider society. In this blueprint, the notion of "Umkreisbildung" – empowering the farm's surrounding community to take over responsibility and land tenure – is built into a nationwide professionalized structure which takes care of the necessary legal, financial and communication tasks. The land is leased to farmers that comply with ecological cultivation and engage in according social and educational activities in the region (see definition of agroecology above). Since 2014, Kulturland eG has managed to secure 100 hectares land for nine farms.
One such farm is CSA Hof Basta in Eastern Germany. Kulturland eG helped the CSA farm to secure nine hectares agricultural land in 2016. The farm cultivates the land with more than 50 vegetable crops, six potato varieties and different grains, according to biodynamic and GMO-free guidelines. Its members, who are working and living at the farm, want to secure old and endangered vegetable crops. They also serve over 400 households in nearby towns, who, rather than just buy veggies, have a stake in the farm for a monthly fee that they decided on as a community.
Mapping land of indigenous peoples and local communities
It's estimated that communities hold about 65 percent of the world's land area under community customary systems [PDF link], yet only a fraction of this is recognized or mapped. This push for liberalisation of land ownership and use poses a serious risk for natural, cultural and social heritage. Despite the growing attention and effort towards empowering local communities and their land holding rights, these entitlements are often not recognized or respected. Initiatives like LandMark are fighting for a more sustainable interaction with the resources of our planet and the livelihoods depending on them.
LandMark is the first online, interactive global platform providing maps and other information on community held lands. It is designed to support indigenous and other local communities to secure their land rights. The map provides different data layers and categories to show the land tenure situation and potential pressures, changes in land cover over time and their engagement in protecting the environment.
Liz Alden Wily: "Now there is actually a strong global movement on [communal land ownership], and Landmark is a reflection on that."
Landmark set out to chart the global extent of communal lands. Founded by 13 partners coming from some of the most renowned international organisations for resource management (e.g. World Resources Institute; Instituto del Bien Común), this platform is publicly accessible and of use for governments, investors, development agencies and advocacy groups. Currently, Landmark has mapped lands totalling 11% of the global habitable land as verified indigenous or communal land. There is a need to widen the scope of this support in order to demonstrate the importance of acknowledging this widespread but still marginalized phenomenon. However, as mentioned, one must not forget the political nature of mapping and the official call-out of landowners. On the one hand, it risks revealing information on land lacking legal protection (thus paving the way for example for illegal activities like logging). On the other hand, there are different viewpoints on how far back customary practices should go in order to make it the basis for an official recognition of ownership and sometimes more communities claim the same area. This emphasizes the need for careful examination of customary practices, the dependence of natural cycles and livelihoods, as well as the risk of exploitation through third parties.
Conclusion: Who owns the land? Who owns the future?
Liz Alden Wily: "It's all great but it's really just the icing on the cake. All the time and the energy and the work is not about simplified mapping, it's about agreeing where these boundaries are."
The commons approach is revisited in various forms and scopes, ranging from CSA farming in Germany to international online landholding maps. The common ground between these approaches lies in the emphasis of the community as a reliable construct that redefines rules to secure land also for societal and natural instead of merely economic aims. On the way to formal recognition, however, those communities need support in advocacy, funding for projects and court cases, research and hands-on work. The stakes are high since the questions around ownership and use of land will ultimately determine the course of livelihoods of thousands of communities and species around the world.
If you are interested in reading more about or engaging in community land endeavours, have a look at the initiatives listed and gradually updated on the Chamber of Commons website. Feel free to get in touch in case you have ideas or are interested in collaborating.
Written by: Isabella Krammer